Close
K.d.F.-Seebad Prora
Sylvia Necker: "K.d.F.-Seebad Prora" – Architektur- und zeithistorische Betrachtungen / KdF Seaside Resort Prora – Reflections from the Perspective of Architectural and Contemporary History, in: Alexander Glandien/Andrea van der Straeten (Hrsg.): PRORA [Experimentelle Gestaltung, Institut für Bildene Kunst und Kulturwissenschaften, Kunstuniversität Linz 2013], Linz 2014, S. 34-68.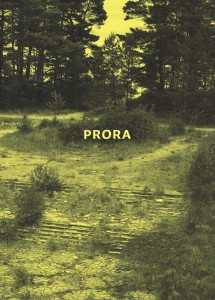 Einladung zur Buchpräsentation
PRORA | Experimentelle Gestaltung | Dienstag 11.März 2014 – 19:30 Uhr | Seminarraum 2.15 (2.OG) | Experimentelle Gestaltung | Kunstuniversität Linz | Kollegiumgasse 2
Am kommenden Dienstag findet die Präsentation unserer aktuellen Publikation statt, welche die künstlerischen Arbeiten versammelt, die während unseres Aufenthaltes im ehemaligen KdF-Seebad in Prora entstanden sind.